USEI – Monster push ahead of anticipate major update from the company
We are on high news alert as we expect a major update from the company to be unleashed soon – take any opportunity to scoop super cheap shares of USEI - this will move fast and furious.
USEI is making a push to a new 52 week high. Direct Global Media already set near term targets of $0.20. Once long term targets are established by DGM after more news is unleashed, it will take USEI over the top!
USEI last traded at $0.048 up 7% on a wild trading session - we are in anticipation of the biggest update from the company yet – stay tuned.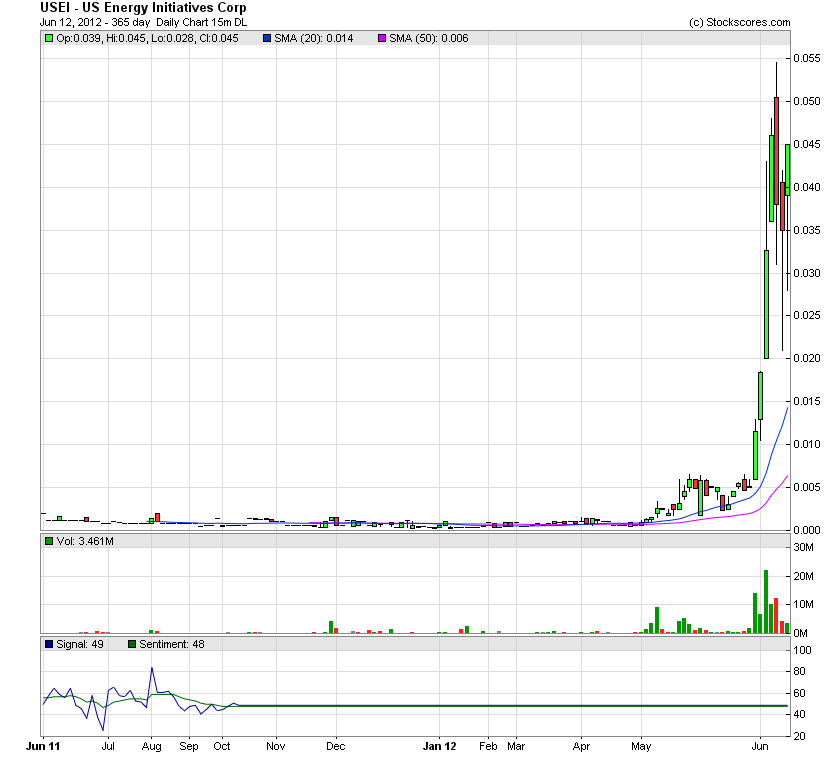 About US Energy Initiatives
The Company has two separate energy initiatives; one in the automotive sector and one in the oil, gas & technology sector.
We will continue to develop and market our automotive technologies which we have done since 1996; and focus on manufacturing and marketing GREEN retrofit systems for the conversion of gasoline and diesel engines, stationary or vehicular, to non-petroleum-based fuels, such as compressed natural gas and liquefied natural gas.
We will also acquire and develop stranded or un-recovered oil properties for enhanced oil production, create partnerships with operators, create strategic alliances for primary and secondary recovery, and partner with farm-ins on properties where technology will be utilized to improve recovery efforts. Our goal here is to become an environmentally responsible oil and gas company; utilizing all methods available to improve oil recovery.
Follow us on twitter at http://www.twitter.com/ourhotstockpick and become the first to see what our next HOT Stock Pick will be.