AERS – Friday the 13th a scary thought?

Ok, a little fun and trivia to start the day, but, Fear not! Friday the 13th have actually been positive trading days on average! Just check S&P performance on Friday the 13th vs all other days. Definitely an outperformer, and super impose this onto the OTC board and there potential for BIG gains today!
Friday the 13th may be full of superstition and some people consider that an unlucky day. But, the only unlucky thing about Friday the 13th is that we had to put up with real bad movies
…well actually we admit it, we liked them in an odd kind of way.
Back to our feature, no doubt AERS is showing huge bullish strength closing out the week with bulls gaining the upper hand for a HUGE breakout trigger and several key technical indicators:
We already confirmed a "Bullish Homing Pigeon" candle formation – very bullish.
AERS bounced strong off the 10 DMA closing solid green yesterday.
We are starting to see a "w" bullish bounce formation. With the double bottom pivot already confirmed, we are in the breakout side of this formation.
In technical analysis, a chart formation caused by a sharp decline, a sharp upward movement, and then a second sharp decline and sharp upward movement. The resultant chart pattern is similar to the letter W. In general, if the second upward movement surpasses each of the two previous high points, the W formation is a bullish sign and a strong buy indicator.
Now, those are the technicals and definitely solid bullish indicators. Fundamentally, AERS is a Powerhouse in the making with recently awarded patents on their smart phone technology, and just this week confirming phones have been successfully tested, and are being shipped into the US for major carriers like T-Mobile and Vodafone. This is huge and we will definitely be following and featuring AERS as this progresses.
Next week we will be getting ready to unleash another monster pick to get the juices going for another 1,000%+ gainer. Our last picks are on fire with over 1,300% gains and still adding more – we are looking to double this with our new alert to be unleashed next week!
AERS closed yesterday up 2.48% to $0.0165 - we are definitely looking to steal more shares today to add to our position. We continue to hold a sizable amount of shares and we definitely not letting them go for anything under $0.10 price target initiated by Direct Global Media.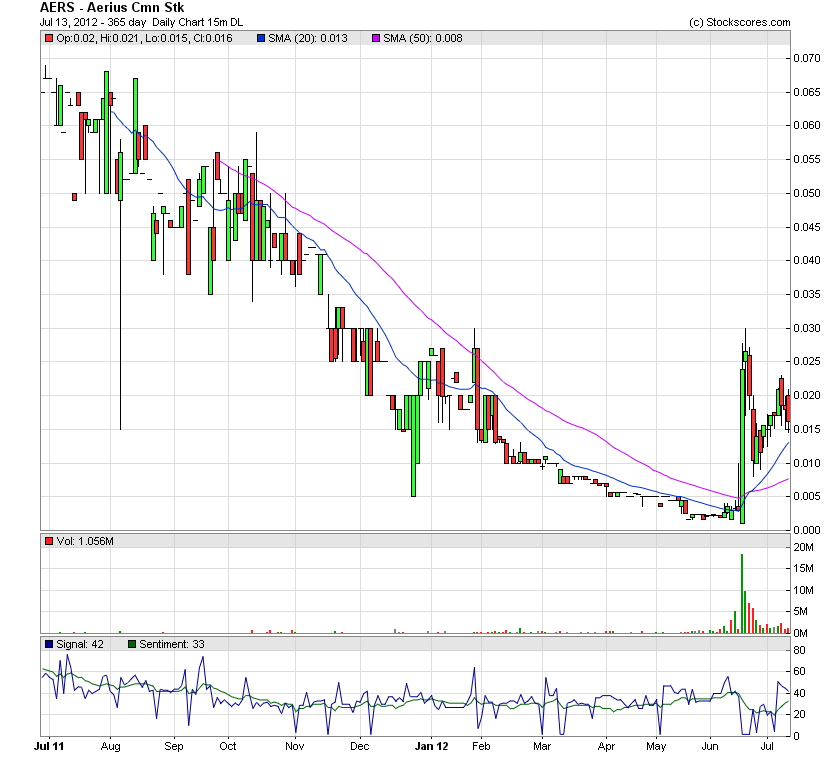 About Aerius International, Inc
Aerius International, Inc. has developed a revolutionary antenna technology for cell phones proven by carriers and in independent labs to increase battery life 66% and reduce handset power loss into users 99.4%.
Aerius won the Frost and Sullivan 2009 North American Wireless Technologies Green Excellence of the Year Award, based on Aerius equipped phone performance.
Compensation: Ourhotstockpicks has not been compensated for the profile of AERS .
Ourhotstockpicks.com profiles are not a solicitation or recommendation to buy, sell or hold securities and is not offering securities for sale.  An offer to buy or sell can be made only with accompanying disclosure documents and only in the states and provinces for which they are approved. Ourhotstockpicks may be buyers of features in the open market. Click here to view the full disclaimer