AERS – Smashing day rocketing 69.23%!

When you get a breakout trigger like you just seen with AERS, this is what happens – AERS was top performer today and closing a wild session up 69.23% to $0.022 -  a classic "w" formation breakout play.
We anticipate AERS is working on a MAJOR update for shareholders, and because of this we have pushed our new alert to add to our triple play of AERS and CMGO to next week, Tuesday at 9:40am EDT.
Definitely keep AERS on high alert this week which looks primed to breach recent highs of $0.03. With Direct Global Media $0.10 near term price target - this is set up for a multi-bagger gainer!
AERS is ready to break though recent highs, and into "Blue Sky" territory – the opportunity here is too good to pass up!

We always look to add to our position on minor dips just like we have seen with AERS and now CMGO is presenting a similar opportunity. With the AudioEye spin-off shares at the end of the month, CMGO is sitting at super cheap levels waiting for their next breakout trigger.
AERS technical charts is pointing to a monster breakout with double bottom "W" bullish formation. Smart buyers scooping cheap shares earlier this week are holding solid to 100% gains, and 700% gains since our alert a few weeks back. With easy triple gains still in the works, smart buyers will continue to load up!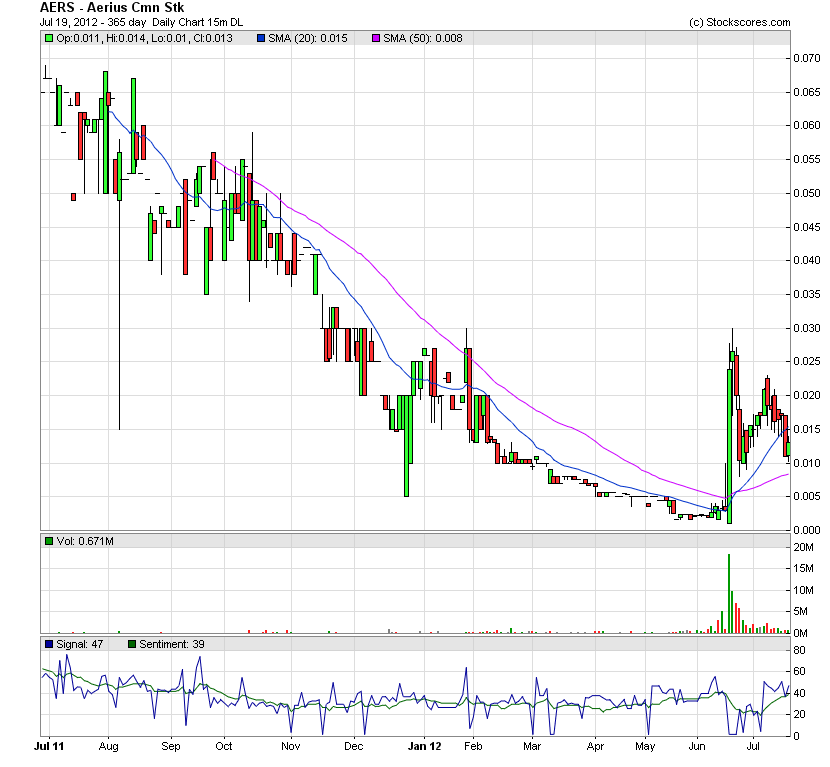 AERS patented smart phone technology is the "smartest" as they come. Recently tested, these phone are ready to hit the market big time.
Large carriers like T-Mobile and Vodafone continuously look for key advantage in improving on these issues. The interesting part is that Aerius (AERS) already has a patented solution that is available immediately.
AERS phone advantage
2 TO 4 MORE HOURS OF BATTERY LIFE
RATED VIRTUALLY SAR-FREE BY THE FCC
HEARING AID COMPATIBLE
60% FEWER DROPPED CALLS
WINNER OF 2009 FROST & SULLIVAN GREEN TECHNOLOGY AWARD IN WIRELESS TECHNOLOGIES
AERS management is solid with extensive experience and with major companies like AT&T, Tyco Electronics and producing HUGE revenues.
What is also very interesting is several companies these guys were driving were bought out by BIG competitors at premium prices – AERS is the next buyout possibility?
The company already  unleash a MAJOR update with several hints that we are in for many more – this will really get the rally on higher prices.
About Aerius International, Inc
Aerius International, Inc. has developed a revolutionary antenna technology for cell phones proven by carriers and in independent labs to increase battery life 66% and reduce handset power loss into users 99.4%.
Aerius won the Frost and Sullivan 2009 North American Wireless Technologies Green Excellence of the Year Award, based on Aerius equipped phone performance.
Join the up-to-date discussion in our Skype Chat Room. It's free, and it's easy to join. Just download Skype at  http://www.skype.com/intl/en-us/get-skype and add 'xtremepicks' to your contact
Xtremepicks.com your trading connection and remember to always do your own research, use stop loss orders to protect yourself, and book your profits when in a position to do so.
Xtremepicks.com profiles are not a solicitation or recommendation to buy, sell or hold securities and is not offering securities for sale. Xtremepicks did not receive compensation for the profile of AERS, CMGO, USEI and may be buyers in the open market. Verify all claims and do your own due diligence. An offer to buy or sell can be made only with accompanying disclosure documents and only in the states and provinces for which they are approved. Click here to view the full disclaimer