AERS, MHTX – A quick note to start mid week trading

AERS is making a solid bounce move up 30% this week since bouncing off strong support levels of $0.007. With an update ready to be unleashed from the company on their smart phone shipment from China, AERS can move super fast - we have already seen it soar 1,000%, now here's another prime opportunity to score again.
We are watching Manhattan Scientifics, Inc. (MHTX) and an interesting story that is developing. MHTX caught our eye with Monday's press release.
Manhattan Scientifics Achieves Significant Milestones in Pursuit of its Early Cancer Detection and Treatment TechnologyBusiness Wire(Mon, Aug 13)
MHTX recent press release marks a significant milestones in pursuit of its early Cancer detection and treatment technology. Trading at $0.059 (up 11.3%), there is a grown number of investors also paying attention to their development.
No doubt, there has been a lot of funding in Cancer research, and solution & prevention can not only provide a HUGE benefit for society, it can also be a profitable venture.We are definitely keeping a close watch on MHTX a solid play to buy and hold long term and AERS which is fighting for a similar cause.
We already mentioned that AERS smart phones prove to almost eliminate SAR and as much as 97% below US and EU SAR limit. SAR is the specific absorption rate of microwave radiation from cell phone handsets into human tissue – a leading cause of brain cancer from cell phone as reported World Health Organization (WHO).  
AERS is primed for a MAJOR breakout  confirming a 180 degree reversal to bullish trend and closing at $0.009 up 12.5% - breakout trigger is close at hand. News on their shipment of smart phones from China will definitely kick start this in high gear!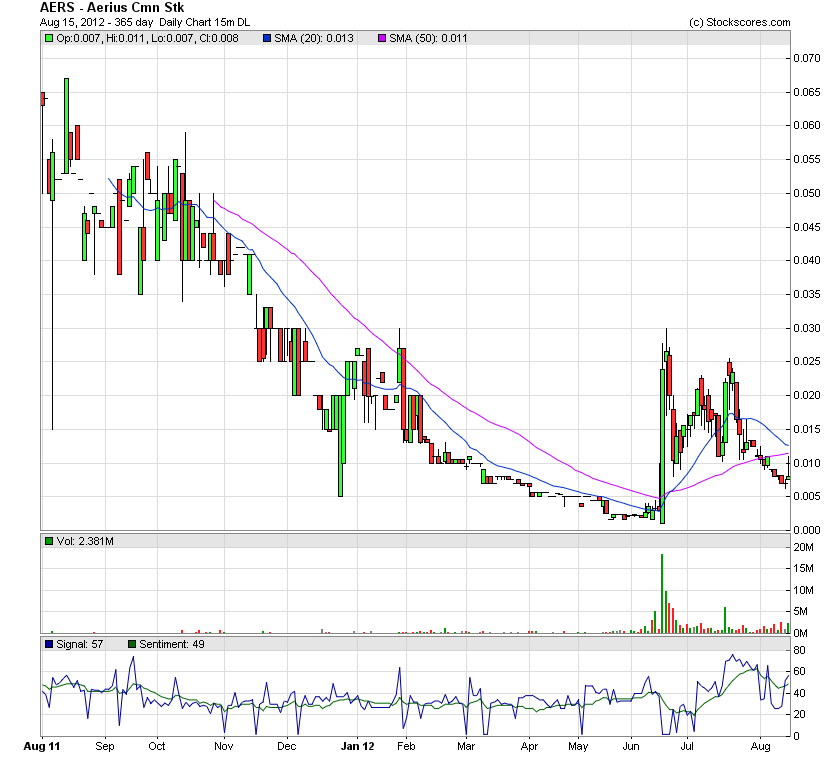 AERS patented smart phone technology is the "smartest" as they come. Recently tested, these phone are ready to hit the market big time.
Large carriers like T-Mobile and Vodafone continuously look for key advantage in improving on these issues. The interesting part is that Aerius (AERS) already has a patented solution that is available immediately.
AERS phone advantage
2 TO 4 MORE HOURS OF BATTERY LIFE
RATED VIRTUALLY SAR-FREE BY THE FCC
HEARING AID COMPATIBLE
60% FEWER DROPPED CALLS
WINNER OF 2009 FROST & SULLIVAN GREEN TECHNOLOGY AWARD IN WIRELESS TECHNOLOGIES
AERS management is solid with extensive experience and with major companies like AT&T, Tyco Electronics and producing HUGE revenues.
What is also very interesting is several companies these guys were driving were bought out by BIG competitors at premium price…hmmmmm.
About Aerius International, Inc
Aerius International, Inc. has developed a revolutionary antenna technology for cell phones proven by carriers and in independent labs to increase battery life 66% and reduce handset power loss into users 99.4%.
Aerius won the Frost and Sullivan 2009 North American Wireless Technologies Green Excellence of the Year Award, based on Aerius equipped phone performance.
Join the up-to-date discussion in our Skype Chat Room. It's free, and it's easy to join. Just download Skype at http://www.skype.com/intl/en-us/get-skype and add 'xtremepicks' to your contacts.
Xtremepicks.com your trading connection and remember to always do your own research, use stop loss orders, and book your profits when in a position to do so.
Xtremepicks.com profiles are not a solicitation or recommendation to buy, sell or hold securities and is not offering securities for sale. Xtremepicks did not receive compensation for the profile of AERS, MHTX and may be buyers in the open market. Verify all claims and do your own due diligence. An offer to buy or sell can be made only with accompanying disclosure documents and only in the states and provinces for which they are approved. Click here to view the full disclaimer